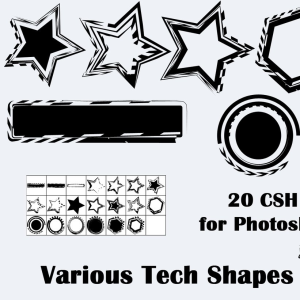 This set of free custom shapes includes stars and other geometrical shapes like circles made in a tech industrial style. Not sure if you know this, but the star symbol has many-many meaning. Make sure you give them a look before using them in your designs.
The set includes 20 custom shapes that you can use in your design. You can create abstract backgrounds, military army patterns and so on. If you want to create outline shapes online you can try using the MockoFun online graphic design software.
It contains lots of vector shapes and you can add outlines and strokes of different colors very easily.
rating: submitted by:John views: 6142 website:jojo-ojoj.deviantart.com