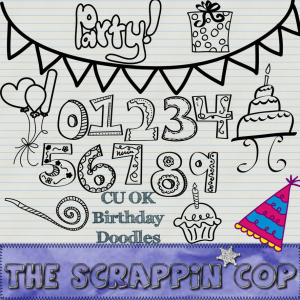 I made a few of these Photoshop birthday doodles months ago and just decided to make a few more today and post them on my birthday. The numbers aren't new, they are from my doodle alpha. I just thought they might be handy to throw in with this set so they are all together.
These doodle birthday shapes are great for creating scrapbooks, birthday cards, etc. The CSH Photoshop custom shapes pack contains decorative candle numbers, gift shapes, cake vector shapes and so on. Get inspired and combine these birthday doodle shapes with a nice birthday message.
If you don't know what fonts to pick, check out this awesome list of free cake fonts from MockoFun.
rating: submitted by:John views: 8390 website:www.scrappincop.com