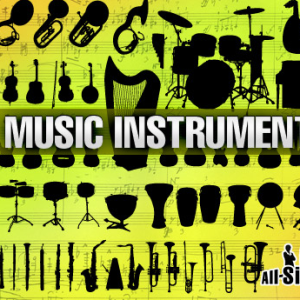 Musical Instrument set – 85 printable, scalable vector Illustrations of all popular music instruments. In this pack you will find the following silhouettes: guitar, bass, drum, folk instruments, band & orchestra, Piano, Violin, Jazz, Musical Note, Saxophone, Trumpet, accords, acoustic, audio, entertainment equipment, harp, musical objects, orchestra, rock, sax and other music related shape. All that silhouette are ready to use in your amazing designs, creating eye catching graphics, print design, motion graphics, 3d rendering.
b-cars, flayers, posters. Most of silhouettes unique and hand drawn! Available for personal & commercial use. My vector clip art silhouettes better to edit with Adobe Illustrator CS or Adobe Photoshop CS.
Other Graphics Software (Such as Corel Draw or Freehand) can be used for editing my files, but I can't guarantee that everything will be 100% correct.
rating: submitted by:admin views: 10127 website:all-silhouettes.com