Advertisment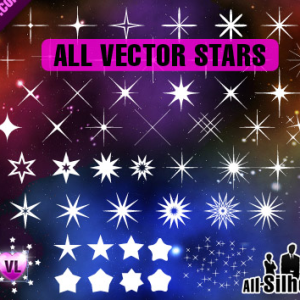 Title: Photoshop Stars Vector Shapes CSH

Category: Symbols

filetype: AI, CSH

file size: 0,3 mb

number of shapes: 72

author: all-silhouettes.com
How to Install Custom Shapes in Photoshop Tutorial
Description:
Download for free these amazing Photoshop star shapes and sparkle shapes. These 72 vector stars in EPS and CSH formats was created for you by Vector Lady. Make you own Galaxy, Space area or shining night sky.
All that star shapes and silhouette are ready to use in your amazing designs, creating eye catching graphics, print design, motion graphics, 3d rendering. b-cars, flayers, posters. Most of these star shapes are unique and hand drawn! Available for personal and commercial use.
My vector clip art silhouettes better to edit with Adobe Illustrator CS or Adobe Photoshop CS. Other Graphics Software (Such as Corel Draw or Freehand) can be used for editing my files, but I can't guarantee that everything will be 100% correct. The Photoshop star shapes can be used to add sparkle and glitter effects so they might prove very useful for the upcoming Christmas time.
Comments