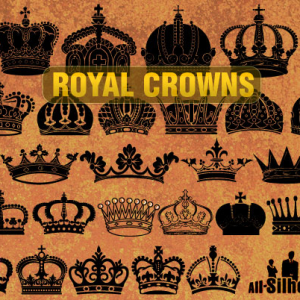 Royal Crowns. One more vector clipart of herald elements – Crowns. This time most of crawns not only simple silhouettes, but detailed shapes.
Easy to color and put some stylish gold or silver gradients. You are welcome to make a queen/princess from any sexy girl with such a famous attribute, to decorate your vector coat of arm o any other heraldry illustration. There are 35 vector shapes of crowns in different styles and both formats: Photoshop and Illustrator.
Make these crown shapes look like gold using the gold layer styles for Photoshop in this huge collection of over 500 Photoshop text styles.
rating: submitted by:admin views: 11006 website:all-silhouettes.com