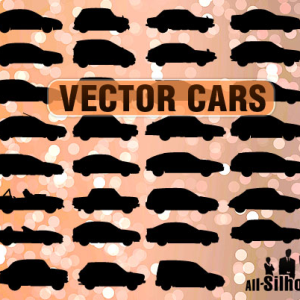 Finally I'm sharing all possible silhouette of cars I have. This part contain shapes of common passenger car (motor), automobile, cabriolet example, luxury and sport cars, coupes, minivans, sedans, wagons etc. Acura, Alfa Romeo, Audi, BMW, Buick, Ferrari, Ford, Fiat, Honda, Lexus, Toyota, Subaru, Cadillac, Bentley, Chevtolet, Mazda, Porsche, Volvo, Saab Because this set contain most popular vector formats it's so easy to prepare HQ printable version.
Vector files are so cool, because you can resize it without quality loss Vector images are totally scalable – from small till very large.
How Can I Make My Own Vector Cars?
You can make your own
vector
cars starting from an image of a car then processing it in Photoshop. I won't go into the details of how the process work, but what I do is use this free action for creating
line art Photoshop
vector
shapes from PhotoshopSupply.
Here's just a few car vector silhouette shapes created in this way. The best results are obtained when using a cutout PNG image of the car.

If you are looking for high quality PNG cutout images for cars to use a starting point, check out Textures4Photoshop and this old car PNG image.
rating: submitted by:admin views: 12150 website:all-silhouettes.com