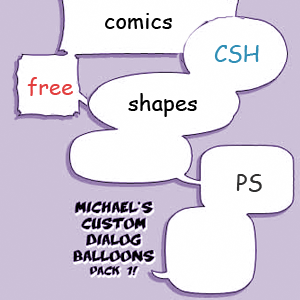 Here is a new set of custom comic dialog balloons vector shapes. This is a set of Photoshop custom shapes, so all you have to do is import them into your shapes palette and voila! These bubble shape vectors are scalable so you can use them in your designs without worrying about the quality. The speech bubble shapes are simply the balloons themselves—no tails.
Don't really see a point in building the tails in since you'll likely need to move them around anyway! Feel free to use these speech bubble shapes for your own projects, no credit necessary. But do let me know if you use them, and where—I'd love to see them in action! These custom shapes work great for comics, comic book illustrations or any other cartoon graphic illustration where you want to place a message. If you are into comic book design, you should definitely check out this awesome Pop Art Photoshop tutorial.
With these versatile shapes, your creative possibilities are endless. Get started by downloading them today and unlock a world of comic book design potential. Don't forget to visit our blog post on comic strip template to see how these custom shapes can be used in various comic strip projects.
rating: submitted by:John views: 8629 website:michaelmayne.deviantart.com