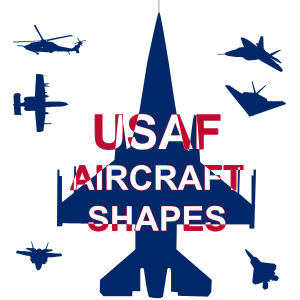 Airplane silhouettes free vector shapes for Photoshop. This pack contains 24 USAF military airplane silhouettes that look absolutely stunning. In the CSH pack you have aircraft silhouettes for these USAF aircrafts:
A-10, Warthog
B-1, Lancer
B-2, Spirit
B-52, Stratofortress
C-130, Hercules
C-145, Skytruck
E-3, Sentry
F-117, Nighthawk
F-16, Viper
F-18, Super Hornet
F-22, Raptor
F-35, Lightning II
HH-60, Pave Hawk
MQ-1, Predator
MQ-9, Reaper
PJ, Pararescue
T-38, Talon
The military jet fighter silhouettes can be used in many designs ranging from posters to tattoo designs.
Enjoy!
rating: submitted by:Reaganator views: 2743 website:www.reaganator.com