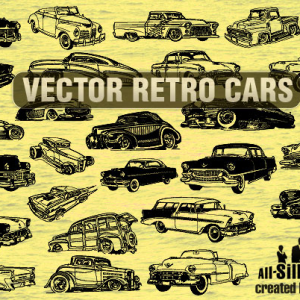 This set was created by johnny (see author info) and shared for free. But If you are going to use it for commercial purposes and worry about it – contact author directly. IMPORTANT INFO FOR BLOGERS! If you are going to share this vector pack, your should insert direct link to this page, and make link text the same as title of this post.
What Can I Do With These Vector Retro Car?
You can use these car logo
vector
shapes to make your own vintage retro car illustration. Check out this
Photoshop
tutorial from PSDDude about
how to make a car illustration in Photoshop
. Instead of the
vector
cars used in the illustration you can use the car silhouettes below or these awesome
car vector silhouette
shapes
from PhotoshopSupply.
rating: submitted by:admin views: 6899 website:all-silhouettes.com